PORTFOLIO | 2D/3D | ANIMATIONS | TUTORIALS |
My favourite light setup in Cinema 4D
What if I told you that there is only one light source in the scene below and
I didn't spend a single minute setting it up. Curious? Welcome to my tutorial!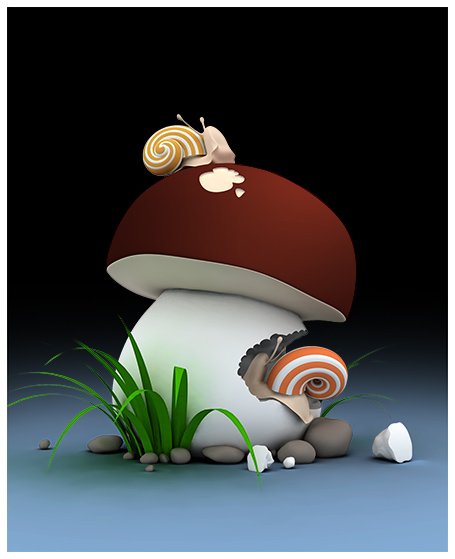 Step 1 - Scene
I use the same scene with everything already set up for all renders I do. I made it a couple of years ago following Maxon's tutorial on "High Dynamic Range Lightning". To continue this tutorial it is necessary to download my scene.
Unpack the zip file, open up Cinema 4D r.10 and load scene.c4d.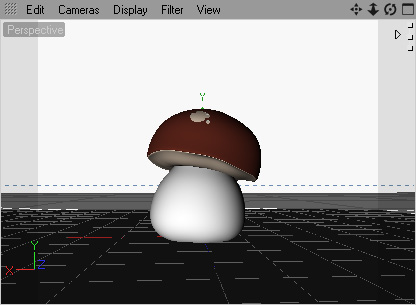 Before we start rendering we should make sure that Cinema knows the path to the texture file. In the Material Manager double click on the Visible (or GI, it doesn't matter) icon and in the Luminance tab click on the "..." button and load "texture.hdr" file.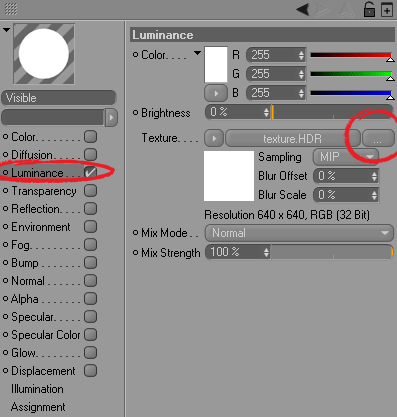 Notice that there is no light source in this scene. All light comes from the "GI" sphere in the scene.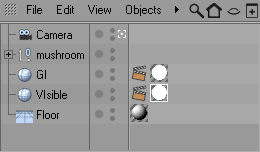 Step 2 - Rendering
Open Render Settings dialogue and make sure "Global illumination" in the Global Illum. tab is checked.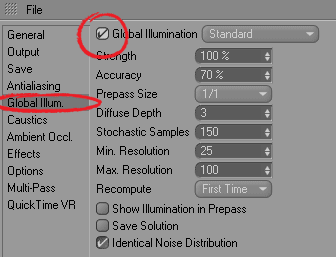 Set a big output resolution in the output tab so that the postprocessing in Photoshop is much more comfortable later on.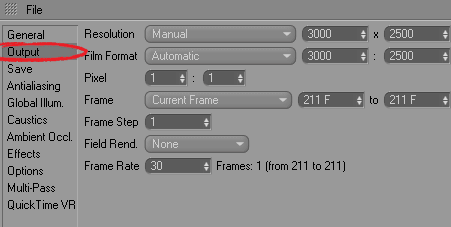 Don't forget to set the name and path in the Save tab.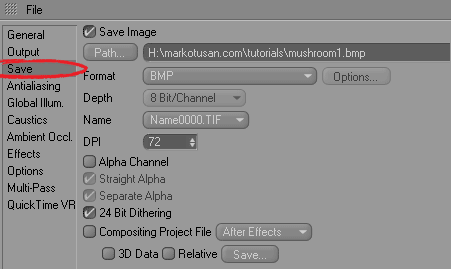 Now you can render your object. In my scene there's a mushroom but you can place there anything you want. I found out that with these settings everything looks clean, professional and good:-)
Hit "Render to picture viewer" (or press Shift+R), sit around and wait.
From this moment on don't move the camera. Don't even zoom. Under no circumstances:-) We will need to take another shot with different settings.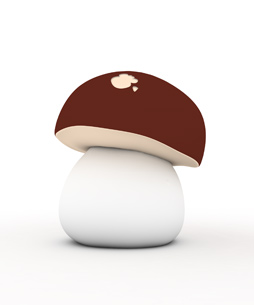 As you can see rendering a white object on white background is not very clever. But I did it on purpose. If you are rendering other than white objects you might be perfectly satisfied with the result and just finish at this stage. But in this case we are going to change the background colour.
Step 3 - Changing the background colour
We need to take another shot of the scene in which everything except the mushroom is black while the mushroom stays white. Since there's a floor in our scene we can't rely on rendering with alpha channel.
Delete GI and Visible object from your scene.
Crate new material (in Material Manager click File -> New Material) and name it "Black". In Color tab change brightness to 0% and uncheck Specular.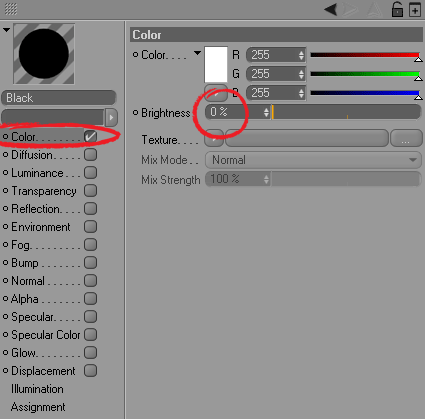 Apply this material to Floor object.
Open "Mushroom yellow" material. Uncheck Color and check Luminance. Do this with "Mushroom brown" and "White" materials too. If you are rendering other objects do this with all materials you have in the scene except for the "Black" material of the floor.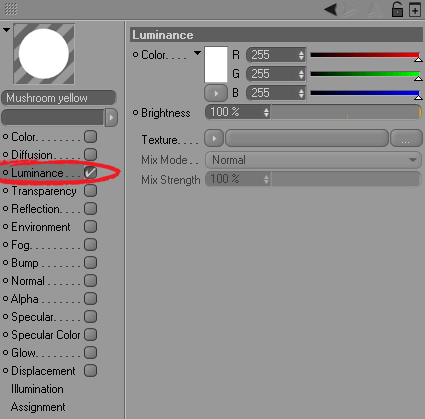 Open Render Settings dialogue and uncheck the "Global illumination" in the Global Illum. tab.
Change the name of the image in the "Path" field in the Save tab otherwise you overwrite your first image.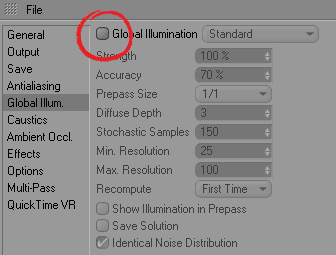 Hit "Render to picture viewer" and you should get something like this: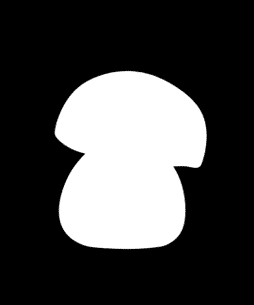 This way we have created a picture that can help us isolate the mushroom from the rest so we can easily change the background colour in Photoshop.
Open up Photoshop and load both pictures.
Place the black and white picture over your "Mushroom1" picture (drag the "Background" layer into your "Mushroom1" picture window).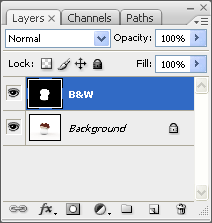 Duplicate the "Background" layer (right click on the layer -> Duplicate) and name the new layer "Mushroom Top".
Double click on the "Background" layer in the Layers tab to unlock it and name it "Mushroom Bottom".
Create a new layer and name it "Colour". Fill this layer with a desired background colour and place it under all layers.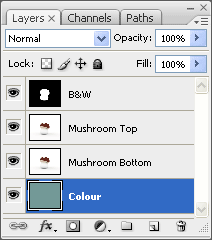 Go to the Channels tab and Ctrl+Click on the "RGB" channel. This should make a selection of the mushroom.
Go back to the Layers tab. Turn the "B&W" layer visibility off by clicking on its eye icon.
Click on the "Mushroom Top" layer and inverse your selection (Shift+Ctrl+I). Press Delete.
Select the "Mushroom Bottom" layer and change the layer mode from normal to Multiply.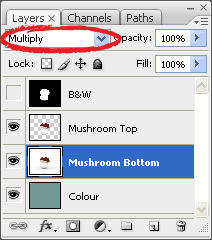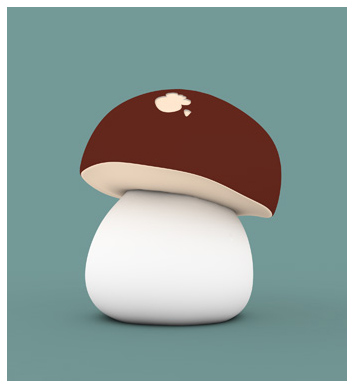 Oh shoot! The result doesn't look natural at all. I thought it would:-( This is actually not how I do it. We should have rendered it with a floor of a desired background colour because it would cast coloured reflections on our mushroom. But don' worry we can still fix this.
Select the "Mushroom Top" layer.
Use a large Eraser brush with Hardness set to 0% and opacity set to 13% to remove a little of the following areas: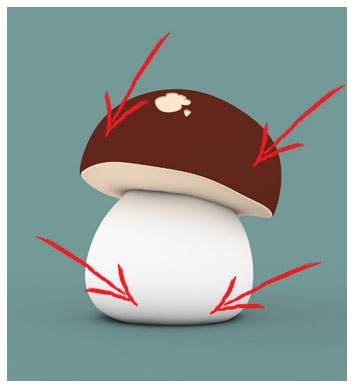 Tadaaa! Much better!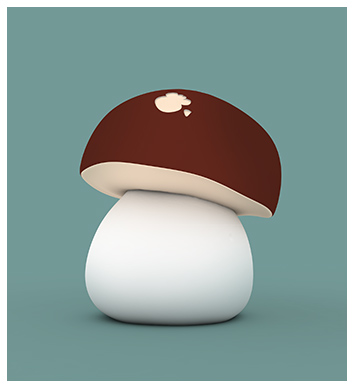 Step 4 - Playing with it
I know it's a bit of cheating but who cares? It's digital art:-) Play with it, try another background colour, try gradients...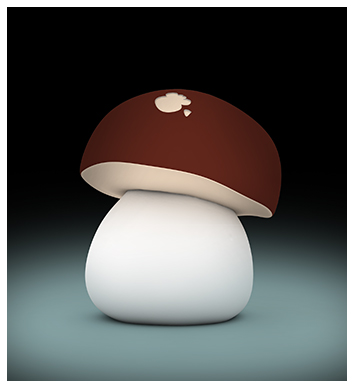 And I got carried away a little...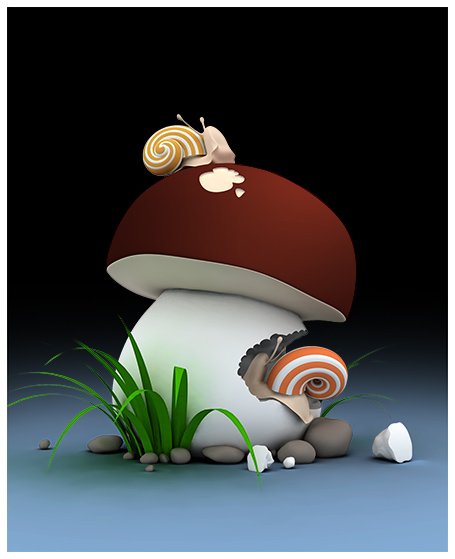 That's it. I hope you enjoyed my tutorial and if you know a better way to achieve the same results, please share it with us. I'm still quite new to Cinema so if you know about some good and free tutorials on light setup, post a link in the comments.
Marko
PORTFOLIO | 2D/3D | ANIMATIONS | TUTORIALS |
Guestbook
Rick
THANK YOU VERY MUCH! :)
Reinette
That is awesome! Thank you for the no-mess no fuss approach!
www.creativepiranha.com

James
Thank you for the tutorial and files. I would love to see a step by step of how you created the final image. Its great and looks like you used some interesting techniques
Marta
Thanks man!
This is great.
Paddy
Brilliant! Just what I was looking for!
Sean
Hey thanks for this!
Saran
very nice job mark..!! and very easy steps to understand... you could also try GRAFTi kind of art,.
Monika
Very nice job! Thank you very much! :)
Richard
As newbie... Its great! You could ilustrate some fairytails books. Did You any?
Add a comment